Last upto 5x longer than traditional car air fresheners
Savage Car Diffuser
A fresh and powerful car cologne diffuser, Savage is a mysterious and intense scent with fresh Calabrian bergamot and smoky vanilla that will give your vehicle a masculine yet sensual fragrance. Inspired by the twilight desert and the best selling cologne, the D'or Savage diffuser exudes its cool signature smell drive after drive.

If you lived through the dark days of 'death by lemon' air fresheners, then you might have asked the same question we did before starting Car Cologne:

'I spent a lot of money on my car… why can't it smell as good as I do?'

Well, we looked around and found there was an enormous gap in the market. Literally nobody had considered upgrading the humble car air freshener into something a little less… stale. 
So we started Car Cologne and our signature product - our Car Cologne Diffuser - became an instant hit. Used by celebs, footballers, and thousands more people, it showed us we weren't alone. Everyone wanted to give their car the luxury treatment with car air fresheners that were inspired by the most luxurious scents in the world.

Since then we've filled out our range with >

DRY MIST | The odour-remover. One burst sanitises the air in your car and keeps it fresh for the whole ride.

CAR MIST | The luxury option. Infuse your ride with the world's most luxurious fragrances. This really *is* cologne… for your car.

CARD AIR FRESHENERS | We've given the tired old card air freshener an update. Infused with a carefully curated selection of fragrances, these cards can also be used in your home or office.

ELECTRONIC HUMIDIFIER | Our most premium product. An electronic diffuser/air humidifier that will clean the air and circulate one of our signature blends to every inch of your car. 
We've secured partnerships with Bentley, BMW and supply Floyd Mayweather and Paul Pogba with scents that keep their ride as fresh as they are. 
We're also an associate partner of Peterborough FC (EFL Championship) because not only do we love football, but we love local too.
Basically, it's been quite a ride (pun intended 😂). Three years on from 'death by lemon' Car Cologne is now the UK's leading Car Air Freshener brand and we're adding to our range all the time, to make sure you car ALWAYS smells as good as you do… if not better.

For product enquiries get in touch here

Or else browse our full range here
Car Cologne are proud of each and every purchase of one of our amazing fragrances, and we love to see all of your pictures, videos and posts on social media - singing the praises of our Car Diffusers, Car Perfumes, Humidifiers, Car Mist, Card Hangers and Dry Mist (and more!) but even we get excited when we come across these from faces we recognise from the TV, so we thought we'd share some of our star-struck experiences here...
Customer Reviews
Write a Review
Ask a Question
31/08/2023
Darren

United Kingdom
31/08/2023
Darren

United Kingdom
Savage silver
Was a bit sceptical about buying these as pretty pricy for an air freshener, wife bought me a similar one off amazon for cpl pounds less, and all I can say is its well worth paying for the real thing as the others don't come close in smell or how long it last, if your like me and was wondering about these just do it you won't be disappointed it gives a very subtle smell for months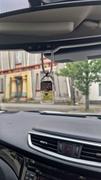 13/08/2023
Jennifer D.

United Kingdom
Amazing
Has a lovely and unforgettable scent that even stays on you when you're out of the car. Would purchase again and highly recommend.
23/06/2023
william f.

United Kingdom
Car cologne
Excellent service and product recommend
21/04/2023
Aneesa A.

United Kingdom
Purchased a few times from your website, amazing service fast delivery and great products!